Cultura Natural
This mural made for TAMA tells how our culture has developed thanks to our connection with nature and how this connection is fundamental for our survival, a work with a compositional and chromatic rhythm full of symbolism.
Each element complements the next and so on. Everything is born from a door, the door of creativity, of dreams, of the power of imagination, of TAMA. With a theatrical aesthetic typical of a paper theater that takes us back to our childhood, this magical ride begins.
The theater of nature
The cultural center TAMA of the municipality of Aldaia, dedicates its 20th anniversary through this mural that focuses attention on the variety of cultural offerings that take place in this space. Among these activities, there are theater performances, music, circus, dance, as well as other civic and cultural events.
Hybrid characters of circus aesthetics will accompany us on this journey, wandering among memories, musical notes and books that recall great moments of this symbolic architectural work.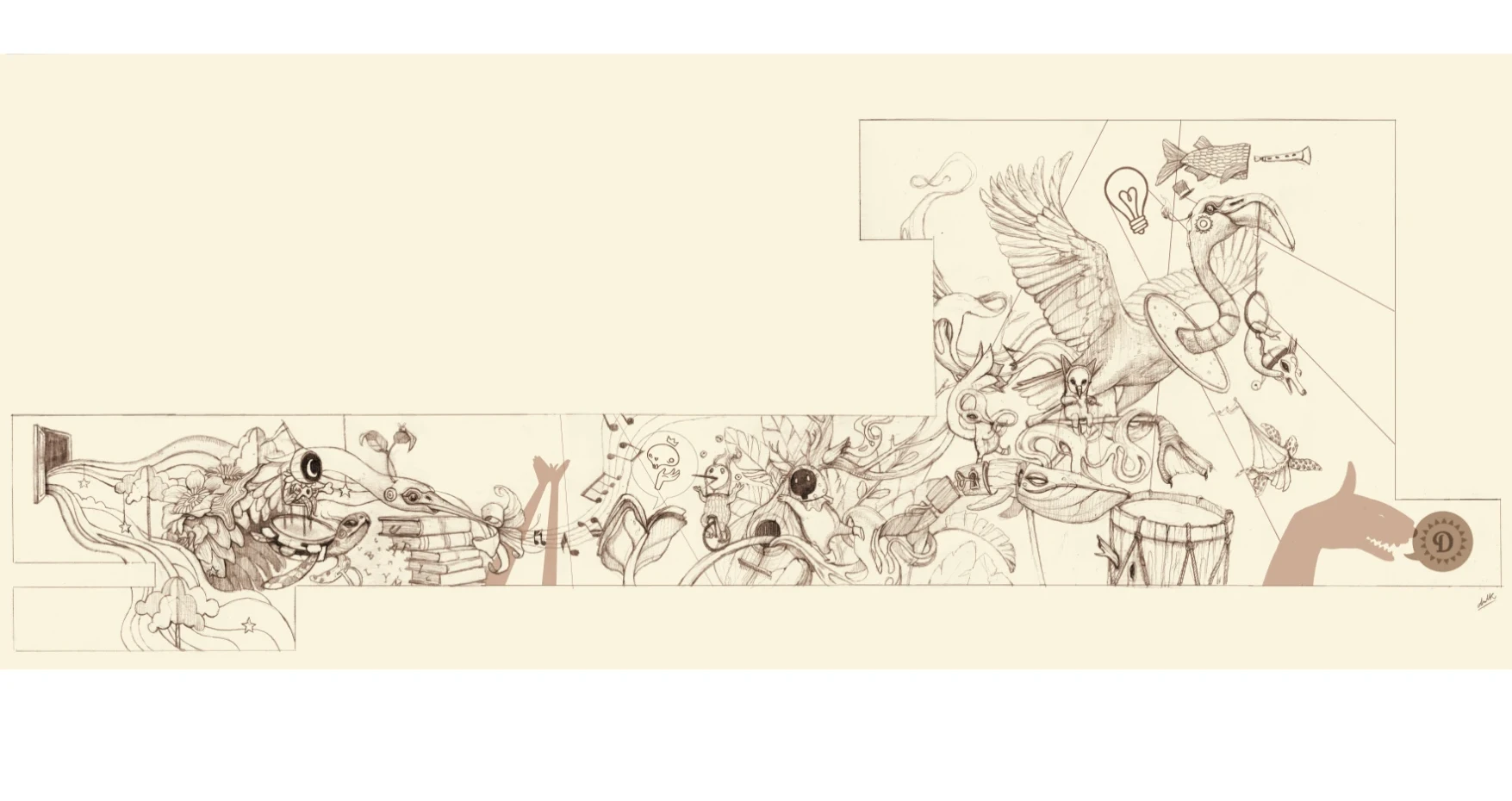 The animals of our beloved Mediterranean Sea, of our threatened Albufera mixed with the magic of the show, Valencian musical instruments like the tabalet and the dolçaina and characteristic elements of the city of Aldaia, cradle of the palm heart welcome us to this place where ideas and sound imagination make us travel through the senses.
Little by little and as we discover each corner of this work we arrive at a moment where one of these mushroom-headed guardians sensitively plays the strings of a bandurria in the shape of a tree to awaken a thunder of life and nature united by the feast of color, of dreams.
Nature blends with the music
The nature is mixed with the music creating a chromatic festival in silence that makes us imagine the that makes us imagine the melodies of the best natural orchestra of the moment. Floral herons, Chinese shadows, jugglers and musicians portrayed with a graphic language attractive to all audiences for all audiences make us imagine the spirit of the place.
Related projects