Deep Forest
This mural inspired by California's wildlife will transport you to a world full of color and vitality. Immerse yourself in the beauty and diversity of North America Pacific Coast.
The species in this artwork represents the rich biodiversity of the California kelp forest. Due to the oceans warming and the excessive growing of urchins, kelp forests are in a serious threat. The energy and joy of the otters and their fundamental role keeping healthy this ecosystem it's the key to converse this rich biodiversity habitat.
This mural is a tribute to nature and the importance of conserving it. It reminds us that each one of us plays a fundamental role.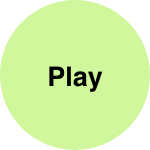 Related projects